"I owe Mali everthing I am, everything I have."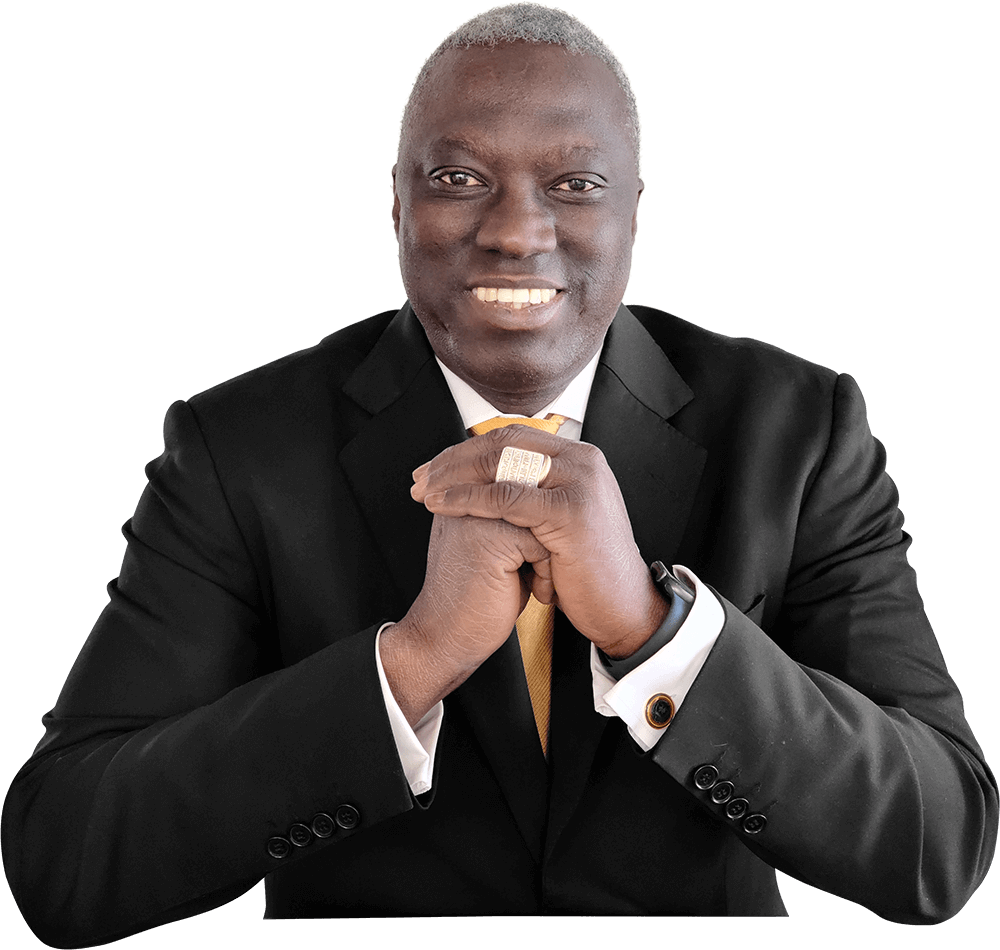 Niankoro Yeah Samaké was born 27th February 1969 in Ouelessebougou, Mali, West Africa to parents Tiecourafing Samaké and Sanamba Doumbia.
Yeah Samaké comes from a very historic lineage. His great grandfather, five generations ago, was the founder of Ouelessebougou and his own father was the first Muslim in his family line.
Like every other family in his village he grew up in modest circumstances. However his father, being a visionary, decided that Yeah and his seventeen brothers and sisters (from three different wives) would all attend at least till high school. In that day and age, this was almost unheard of as children were used as helpers in the farms and the household. Illiterate himself, Tiecourafing was rebuked by his peers for doing this but he remained adamant and said, "My family will go hungry but my children will never know the darkness of illiteracy". There were many nights that the Samaké children did go hungry. On those nights, Samaké remembers his mothers tying their stomachs with a handkerchief so the pain of hunger would not overcome the need for sleep. After middle school, there was no high school in Ouelessebougou, so Yeah left his village for the city of Bamako, 80 km away. There, he attended high school and graduated. He then studied and graduated with his Bachelors in Teaching English as a Second Language at Ecole Normale Supérieure (ENSUP) in Bamako. Even then, Yeah felt the need to serve his people. He returned to Ouelessebougou to teach. However at that time, the government was unable to pay its teachers and so Yeah volunteered at the school teaching children for free.
"A mind, once stretched can never go back"
Since 2004, Yeah Samaké has been involved in humanitarian efforts in two major organizations. Being one of the few lucky ones to receive an education thanks to his fathers commitment to education, Yeah Samaké believed that the power to breaking the cycle of poverty would be found in supplying the people of Mali with the tools and resources to accessible education, healthcare, clean energy, clean water and leadership training.
From 2004 to 2013, as the Executive Director of the Daily Dose which later became the Mali Rising Foundation, Yeah Samaké: 
Partnered with Utahn partners and Malian rural villages to help construct 15 middle schools in the rural regions in Mali
Provided desks, chairs and office supplies for 15 schools
Donated Computers/Laptops and Printers to the Mali Ministry of Education and schools in the rural regions
Installed solar panels for the schools in villages where electricity is not readily available
Provided textbooks in the schools
Donated 1000+ School kits/hygiene kits to children in the villages
Donate 9 scholarships from Wasatch Academy in America for students to go to an American high school. These are $48,000/year scholarships and cover the students from 9th-12th and then help place them in colleges.
Donated medical and dental equipment for hospitals in Oueléssébougou and Bamako.
Hosted 6 medical missions and 3 dentist missions serving around 4000+ Malian men, women and children;
Raised $35,000 and 180,000 meals to assist with ongoing Mali refugee crisis.
As the Co-founder and Field Specialist of Empower Mali from 2013 to present, Yeah Samaké has : 
Partnered with US partners and rural communities to build four middle schools
Built two teachers housing
Donated four tractors under the Empower Mali food security program
Hosted a Malian-US summit for 15+ Malian local leaders
Introduced Samsung tablets into middle schools in Mali to increase access of technology to middle school students
Helped bring more than 30+ Malian high school and college students to the United States on scholarship
Sponsored an afterschool tutoring program for sixteen schools and more than 2000+ children
Installed the first electricity producing playground; The playground charges a battery that then lights up the middle school.
Facilitated many medical and dental groups that have  provided free medical, dental and eye surgeries and treatments.
"I have prepared myself to bring change to Mali."
In 2009, Yeah Samake's political ambitions took center stage. His commune of Oueléssébougou was looking to elect a new Mayor. The previous mayor had served a 10 year term in which little had been done to improve the commune.
Initially Yeah's younger brother was on the ballot, but when Yeah expressed an interest, he ceded his position so Yeah could run. Yeah ran and won with 86% of the vote in Ouélessébougou. He became mayor over 44 different villages and a population of 65000+ people. Yeah focused on ending corruption and increasing government transparency as Mayor. He proved that his native town was not condemned to poverty.
In the six years from 2009 to 2015, the following changes have happened since Yeah had taken over Oueléssébougou: 
Increased tax collection rate from 10% to 68% (more taxes being collected allows for more money to be spent on the needs of the commune).  Yeah's integrity became known commune wide and the people saw that the tax money was used to benefit the commune.
Installed 140 running water pumps in 2010, providing easy access to potable drinking water to villagers.
Construction of a new state of the art hospital. This hospital houses a pharmacy, eye clinic, and woman and children services. It will the biggest hospital of its kind in the region.
The first official high school in Oueléssébougou was completed in December 2011.
Construction of a solar panel field in December 2009, which today provides a clean alternate source of energy for the people of Oueléssébougou.
In December 2011, Yeah coordinated with the Utah League of Cities and Towns (UCLT)to bring several mayors from Mali to Utah so that they could experience better government practices.
With funds from the government Yeah provided funds in the amount of 5 million FCFA (about 10000 USD) to repair and equip existing schools with school desks and supplies.
Partnered with the Utah League of Cities and Towns to run a governance summit in Utah, United States for a delegation of Malian mayors.
In 2011, Yeah was also elected Vice President of the League of Mayors. There are 703 different municipalities in the league. This role gave Samaké the opportunity to better understand his fellow mayors concerns and how to best address how their individual communes could improve.
"As we turn our heart to our neighbors; to our community, our personal needs are met when we serve others"
In May2015, Samaké was appointed by the President of Mali, H.E Ibrahim Boubacar Keita, to serve as the Ambassador of Mali to 10 countries: India, the Federal Democratic Republic of Nepal, Democratic Socialist Republic of Sri Lanka, People's Republic of Bangladesh, Republic of Bhutan, Kingdom of Malaysia, Republic of Singapore, Republic of Indonesia, Brunei Darussalam and Kingdom of Thailand.
Since August 2015, Ambassador Samaké has worked diligently to grow educational, economic, social and technological ties that serve the interests of the people of Mali residing in India and these 9 other countries. Here are just a few of the key highlights of his term so far.
2015
August 2015: Ambassador Samaké partnered with the Call to Action team in New Delhi to host the Spouse of the President H.E Ibrahim Boubacar KEITA. Madame KEITA Aminata MAIGA, shared her experiences to reduce neonatal and maternal infant mortality, particularly in high-prevalence countries
September 2015:  Presentation of the Letter of Credence of Ambassador Niankoro Yeah Samaké to the President of India, H.E Pranab Mukherjee
October 2015: Hosted H.E Ibrahim Boubacar Keita, President of Mali, at the 3rd Summit of the India – Africa Cooperation Forum in New Delhi. Under the theme "Partners in Progress: Towards a Dynamic and Transformative Development Agenda", the challenges of this Summit were to ensure a bright future, provide quality health care, food security education, access to new technologies among others to the respective peoples, all in a secure environment. India committed scholarships to students from Mali.
Visited with H.E Hamid ANSARI, Vice President of India where he discussed the political and security situation in Mali and the ways and means to be considered for strengthening the multifaceted cooperation between the two countries.
Visited with Dr. Mahesh SHARMA, Minister of Culture, Tourism and Civil Aviation of India, in the framework of the strengthening of the cooperation between the two countries in these sectors and in particular the promotion of Timbuktu
Jumpstarted the MOU agreements that had been signed between India and Mali during a 2009 Mali President visit to India. One of these agreements was a 100 million dollar exim bank contract for a construction of a power transmission project connecting Bamako and Sikasso via Bougouni in Mali.
November 2015: Presentation of the Letter of Credence of Ambassador Niankoro Yeah Samaké to the Sultan of Brunei, His Majesty Hassanal Bolkiah.
December 2015:  Presentation of the Letter of Credence of Ambassador Niankoro Yeah Samaké to the President of Singapore, H.E Tony Tan
Overall created a stronger bond between Malian students residing in India and the Embassy of Mali. 
2016
Ambassador Samake presented his letters of credence to four of the countries he covers:
His Excellency Mr. Joko WIDODO, President of the Republic of Indonesia, 02 February 2016
His Majesty Abdul Halim Muadzan Shah Ibni al-Marhum Sultan Badlishah, King of Malaysia, March 17, 2016
His Excellency Mr. Maithripala SIRISENA, President of the Socialist Republic of Sri Lanka, on 22 April 2016
His Excellency Mohammad Abdul Hamid, President of the Republic of Bangladesh, on 27 June 2016
February 2016: H.E Samaké visited with the President of the Chamber of Commerce and Industry of Kolkata State (India) to exchange on how businessmen from Kolkata can make investments in trade, energy, water, mines, agriculture and tourism.
Represented Mali at the 5th Extraordinary Summit of the Islamic countries on Palestine
March 2016: Partnered with the Government of Indonesia to give visa on arrival to Malian citizens. As a sign of reciprocity, Mali also extended the same courtesy to Indonesians entering Mali.
March 2016: Hosted members of the Malian Ministry of Promotion of Investment and Private Sector and businessmen from different branches of business in Mali. The goal was to grow the business relationship and investments between Mali and India.
April 2016: Led a delegation of Indian businessmen from the Indian Texpreneurs Federation to Mali in order to help Indian businesses explore investment opportunities in Mali in the cotton sector. The delegation met with the Minister of Agriculture; the Minister of Promotion of Investment and Private Sector, the Minister of Trade and Industry and the Chairman and CEO of the Malian Textile Development Company (CMDT).
MOU signed for partnership in irrigation, farm mechanization, post-harvest management, and technological transfers with the Tamil Nadu Agricultural University and the Coimbatore Hospital Center June 2016
Visit to Indonesia to search for training and equipment of the Malian Defense and Security Forces
September 2016: Thanks to the persistent efforts of Ambassador Samaké to grow the relations between Mali and India, the Vice President of India H.E Hamid Ansari visited Mali in the first high-level visit of its kind. During this visit, the Indian party made the following assistance commitments:

Financial aid of US $ 500,000 to the Ministry of Culture for the rehabilitation of the Timbuktu manuscripts

Donation of 2 armored vehicles for security

Donation of 5 vehicles for Foreign Affairs Ministry.

Project to build an English Language Center in Bamako

September 2016: Working visit with the Confederation of Chambers of Commerce in Bangladesh to strengthen political, economic and military cooperation between Mali and Bangladesh. Agreement was made for Bangladesh Military to offer military training scholarships to Mali officers and non-commissioned officers.
October 2016: mobilized five (05) scholarships at Barefoot College, a training center that specializes in teaching solar energy electrification to rural women. The Malian recipients successfully completed their course in 2017.
Hosted H.E Mr. Konimba Sidibe, Minister of Investment Promotion and Private
Sector, for two visits to India.  The first to attend the 12th CII-EXIM Bank Conclave on India-Africa Partnership in March, 2017 in New Delhi, and the second in May 2017 to represent Mali at the 52nd Annual Meeting of the African Development Bank in Gujarat.
March 2017: Hosted Minister of State for External Affair of India, H.E. Mobashar Jawed Akbar on an official visit to Mali in March 2017. During his visit, Mali and India held the very first Joint Commission to Evaluate and put in perspective the bilateral cooperation between the two countries.
April 2017: Launched the first Friends of Mali organization in India at Karnataka College in North Bengaluru. 
"When we embrace the world will embrace us."